June 2013
Diego Figueiredo is one of the best young guitarists world. He is winner of several important competitions  like Montreux Jazz Competition, VISA Prize and some others. With  a lot of recorded albums and books, Diego is debuting a new concert series, "From Classical to Jazz". It is a fusion between Jazz , Bossa-nova and Classical music. Diego has an unique interpretation with a lot of technique and emotion. his show has been a great success  in many countries for many audiences.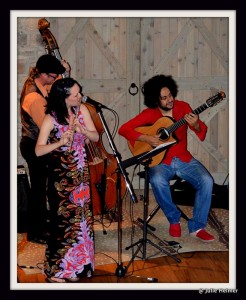 Donny & Kleist had a great opportunity to play in a house concert with Diego and it turned out to be one of the duos most favorite musical moments to date.  Playing traditional choro tunes like "Tico Tico No Fubar" as well as jazz standards like Black Orpheus the trio soared into the hearts of the intimate crowd of listeners who saw that night.
Diego returns in February and hopefully many more trio sessions will be in store!